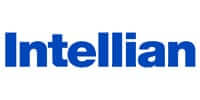 Intellian v-Series antennas are 3-axis stabilized maritime VSAT satellite communication antenna systems that offer exceptional value and superior RF performance in their respective model configurations. Built under the highest engineering standards to ensure that they meet a wide variety of compliance requirements worldwide, all Intellian v-Series equipment meet or exceed FCC and ETSI specifications, as well as Res 902 (WRC-03), EN60945, EN60950, R&TTE, DNV 2.4 Class 4 and MILSTD-167 specifications.
The v-Series VSAT communication systems are compatible with service providers using the iDirect, Hughes, Comtech, and SatLink modems. Additional modem networks are continually being added to our scope of connection. All Intellian v-Series antennas are equipped with Wide Elevation Search angles with Automatic Skew Angle Control and unlimited azimuth (no cable un-wrap) for uninterrupted and seamless data communication. These exceptional VSAT systems are designed to support single and multi-band LNBs (including Intellian's exclusive Global PLL LNB), both cross-pol and co-pol feeds, various BUC options (4W to 60W) as well as a Dual Mediator option for expanded redundancy and fail safe applications.
v60 Highlights
60cm Marine stabilized communications antenna system
Featuring a compact size and lightweight design, the Intellian v60 is a 60cm Ku-band maritime VSAT antenna system ideal for smaller vessels with space constraints. With its 3-axis stabilization platform, the v60 offers superior tracking performance and can be configured for broadband, SCPC or hybrid satellite networks so that users can pair the right service with the best hardware.
Intellian's proprietary global Ku-band PLL LNB Remote Management using Aptus Web. Wi-Fi enabled ACU for local control using Aptus Mobile or PC
v60G variant features combined BUC Power and TX Signal to reduce system cabling Gyro-Free Satellite Search Capability without input from a ships compass
Dual VSAT Mediator integrates two VSAT antennas to combat onboard blockage zonesShorten installation time and reduce maintenance visits with automated diagnostics
Open platform system architecture works with all leading Ku-band service providers
v80G Highlights
83cm Marine stabilized communications antenna system
The Intellian v80G is the smallest antenna that works without the need for a spread spectrum satellite network. This provides a compact system capable of operating in either TDMA or SCPC networks
Intellian's proprietary global Ku-band PLL LNB Similar RF performance to most conventional 1m antennas in an 80cm size
Remote Management using Aptus Web. Wi-Fi enabled ACU for local control using Aptus Mobile or PC Combined BUC Power and TX Signal to reduce system cabling
Gyro-Free Satellite Search Capability without input from a ships compass Dual VSAT Mediator integrates two VSAT antennas to combat onboard blockage zones
Shorten installation time and reduce maintenance visits with automated diagnostics Open platform system architecture works with all leading Ku-band service providers
v100 Highlights
A 1 Meter Ku-Band maritime stabilized antenna, easily convertible to Ka-band service Intellian's v100 is the most popular 1m antenna in the business. The world's leading satellite communications integrators rely on the v100's superior RF performance, its modular, configurable design and its overall ease of use
Higher-gain performance increases throughput and reduces operational costs Patented Intellian Global PLL LNB
Open Platform system architecture works with all leading airtime service providers Simple 4-Step Conversion from Ku to Ka-band conversion in under 10 minutes
Remote Management using Aptus Web Wi-Fi enabled ACU for local control using Aptus Mobile or PC Gyro-Free Satellite Search Capability without input from a ships compass
Dual VSAT Mediator integrates two VSAT antennas to combat onboard blockage zones 3-axis stabilized antenna platform with unlimited azimuth
Anatel Approved for sale and operation in Brazil 3-Year Global Warranty backed by over 300 Intellian Service and Support centers around the world