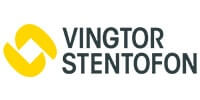 Vingtor-Stentofon SIP is a result of our dedication to provide our customers with the best products that work anywhere in any iPBX system. Our products are constantly evolving and are tested regularly in our lab. They are already integrated in networks from Samsung, Mitel and Aastra. We have also tested for compliance with Avaya and Cisco. Our products are certified for integration in both Avaya, Cisco, NEC and Alcatel-Lucent systems.
Important messages are worthless if they can't be communicated to the proper recipients.
SIP stations and loudspeakers ensure that you get your message across in critical situations, both indoors and outdoors.
In this regard, the Vingtor-Stentofon solution fulfills all the requirements for a complete building security system.
Our substations provide easy communication and can be used as door entry or emergency points.
The Turbine Ex intercom stations are rugged devices, designed for harsh environments and meet industrial and offshore requirements. The reinforced polymer housing is designed to withstand most chemical and environmental hazards found on land or offshore.