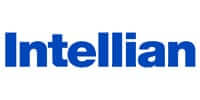 Standard All Americas LNB
The i5 model arrives standard equipped with Intellian's own All Americas LNB. This convenient feature prevents cruisers from having to climb the mast and swap out components as they sail from one coverage zone to another. That it is included in the standard model is also a tremendous value over alternative solutions.
Spend more time enjoying the voyage without missing anything along the way.
A New Size Category
Cruising vessels in the 40-60ft size class have always faced a dilemma between function and form. Standard 45cm (18″) antennas fit the aesthetic of the vessel well, but are not powerful enough to provide coverage that matches the vessel's own cruising range. Until now the only alternative has been to step up in size significantly to the 60cm (24″) option. While this certainly provides the coverage needed to receive signal in offshore destinations, such as the Bahamas and Caribbean, a system that large is simply not an option for most vessels.
The i5 fills this gap, providing the performance needed for offshore cruisers in a form factor that matches the lines of the vessel.
Multiple Interfaces
In the age of mobile devices, it is nice to have an app for everything. Intellian pioneered this in the world of marine satellite antennas with Aptus, our Mobile and PC remote antenna control software. All Intellian ACUs have built in Wi-Fi allowing users to manage and control all aspects of our systems from the palm of their hand. Aptus features auto diagnostics, instant firmware upgrades and a host of other features designed to make operation of our antennas quick and easy.
One of a Kind
Only 20″ system on the market today
performs like most 24″ systems currently offered
Smaller form factor
61cm (24 inch) antenna radome diameter
Antenna weighs less than 17.3 kg (38 pounds)
Standard All Americas Package
Outstanding performance throughout the Americas
No need to swap out antenna components while cruising between service regions
No upcharge for improved functionality
Multiple Receiver Capability
Multiple receivers and TVs can be connected using a Multi-Switch or the Intellian MIM (Multi-Satellite Interface Module)
Using the MIM a master receiver can be selected to control the target satellite
In North America, when using Dish or Bell TV, a MIM is required, enabling automatic satellite switching from your remote control just like at home
iQ²: Quick&Quiet℠ Technology
iQ² Technology allows you to tune in quickly, maintain a solid signal lock, and enjoy your favorite TV programming in quiet comfort
The Wide Range Search (WRS) Algorithm locks onto the satellite signal 4-5 times faster than conventional approaches
Dynamic Beam Tilting (DBT) technology uses intelligent, real-time beam analysis to ensure superior signal quality while reducing overall motor motion by up to 80%, eliminating intrusive background noise
Fast & Easy Installation
Built in GPS means no need to integrate shipboard sensors
Preloaded Global Satellite Library ensures setup is merely a few button taps. Average activation time is 25 minutes
Antenna Control Unit
Intuitive controls and digital information display on the ACU front
Wireless automated updates and diagnostics via Aptus PC and Aptus Mobile
DC Out Port for easy power supply to the Intellian MIM or the Shaw Decoder Module
Three Year Global Warranty
Industry leading 3-year parts and workmanship guarantee with a 2-year labor warranty for all antenna systems, ensuring peace of mind with your hardware investment
The new warranty policy(3 year parts and 2 year labor) is only valid for products purchased after 1st, January 2017