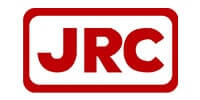 JRC's new ECDIS model JAN-7201S/9201S has integrated route editing, which was conventionally divided into two segments, i.e., graphics input and numeric table input areas, into one. Waypoints, if specified, on a navigational chart are immediately quantified and added to the numeric editing table, and the numeric data on the waypoints that is input into the editing table is immediately reflected on the navigational chart. Up to four routes can be edited at the same time, and a portion cut out of any route can be combined and the routes can be all or partly replaced or edited.
Furthermore, a safety check on edited route data is possible with a click of a button.
Detected error information items, if any, are listed and displayed, and the corresponding route portions are highlighted in the chart and table, which can be confirmed at a glance to take remedial measures.
Conforming to the latest IMO performance standards with Marine Equipment Directive (MED) certification.
Ensuring intuitive and easy-to-use display and operation performance reflecting professional user's voices.
Integrating route editing and route safety checking to support safer route plans.
ECDIS type-specific training (TST) is provided by a variety of organizations around the world on behalf of JRC.
Selectable screen size, 19-inch (SXGA) or 26-inch (WUXGA) as customer's choice.