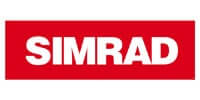 Simrad introduces a new type-approved ECDIS, the E5000 system, designed to provide fast and simple route planning.
E5024 brings the latest user interface, LCD monitor and Quad core processor technology into the ECDIS market providing the customer the highest performance and most cost effective ECDIS solution available today. E5024 offers an extremely powerful yet easy-to-use user interface that meets all of the IMO requirements, providing the user with a fully featured yet easy to learn ECDIS system. The Simrad ECDIS E5024 version combines a high definition, 24in monitor with a quad core processor, providing menu options to the right of the screen, leaving a large usable chart area. The system is controlled by a trackball.
User Interface
E5000 has been designed with an entirely new user interface to help simplify ECDIS usage whilst maintaining IMO approval. The new UI has a clear and consistent layout, along with clear visual indicators for operating modes.
PLECDIS Connection for Paperless Navigation
Two ECDIS devices can be connected together via a network cable connection to provide a redundant system and enabling the ship to navigate without any paper charts 'Paperless' and meet IMO requirements. All routes are automatically synchronised between the connected displays so planning and navigating can happen at different locations on the ship. PLECDIS provides the ship owner and captain with the knowledge that the charting system on-board is duplicated and they can sail paperless  with confidence.
E5024 Features
IMO type approved ECDIS navigation system
All new user interface software provides clean and crisp data presentation and ease of use
UKHO(AVCS), PRIMAR, IC-ENC and NOAA ENC support
AIO, Admiralty information overlay
Navtor chart support for SENC and S-63 and S-57 charts
S52 and INT1 Chart Presentation
PLECDIS (Dual ECDIS) connection option to enable 'paperless' navigation
Integrated second display port output providing additional MFD functionality at a second station. Echo sounder, Charting, Radar, CCTV, Instrument panels etc.
24" 16:9 widescreen for larger viewable chart area
24V DC operation
System pack includes ECDIS Display, ECDIS processor, Trackball and cabling