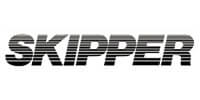 The SKIPPER GDS102 is a dual channel navigation Echo Sounder with a large, high resolution colour LCD display. The Echo Sounder graphics are continuously shown on the LCD along with complete navigational details. External connectors are provided for printer, remote VGA and NMEA in/output.
The SKIPPER GDS 102 contains history memory, who stores depth, time and other available navigation data continuously in the last 24 hours. Information can also be printed out.
The GDS102 is prepared for connection of 1 or 2 transducers with a resonant frequency in the range of 10-265 kHz. A wide range of transducers are available to fit the vessels requirement. This include both high and low frequencies, for depth recordings towards 5000 m.