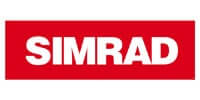 The new IS20 multifunction instrument series features Simrad's revolutionary new SimNet data bus and active sensor technology, providing unsurpassed performance and ease of use.
Easy to see and use – a brand new high contrast LCD and large control buttons ensure simple operation in all conditions.
Accurate – precision sensor technology provides raw data to advanced software at the instrument head for confidence in the data you see.
Installation & Integration
Simrad IS20 instruments are easy to install, as you do not need to access the inside of a console or dashboard to attach the units.
Simply remove the four corner caps and screw the instruments into the prepared space. Then replace the corner caps and you're done.
Integration and connection to sensors is just as simple, as the unique Simrad Intelligent Marine Network – SimNet – features plug and play operation and slim line connectors for easy cable routing, so you'll be up and running in very little time.