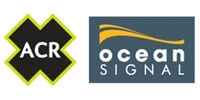 Ocean Signal has developed the SafeSea E100 and E100G to meet the needs of all commercial, fishing and leisure vessels.
The SafeSea EPIRBs operate in the 406MHz satellite band. This is constantly monitored by Cospas-Sarsat, the international search and rescue satellite operator, who ensuring a rapid response when a signal is received, no matter where it is in the world.
The products have been designed for maximum efficiency resulting in superb operating life from the battery, keeping rescue services updated with your location for longer.
All models are fitted with a 121.5MHz homing beacon used by rescue services for close-in location of vessels in distress. In addition, all models are fitted with a high brightness LED strobe light for additional impact, especially at night.
All models can be fitted within an Automatic Release Housing (commonly referred to as 'float free').