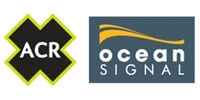 The Ocean Signal SafeSea V100 handheld VHF is designed to provide voice communication when it is needed most – in an emergency.
It meets or exceeds requirements of rigorous specifications intended to ensure reliability in arduous conditions.
Ease of use is provided by large keys with simple ergonomic layout supported by a large high contrast LCD to confirm operation.
The V100 is provided with a lithium primary battery which is protected from inadvertent use by a unique protection tab. The battery is non-hazardous for shipping purposes. Battery life is maximised by utilisation of high efficiency circuitry, especially in transmit.
For general everyday use the V100 can be fitted with an optional lithium polymer rechargeable battery which can be replenished using a rapid charger (this can be desk or bulkhead mounted).
The SafeSea V100 is available both with and without an extremely rugged accessory socket. The socket provides connection to accessories if required (e.g. helmets, headsets, extension microphones etc).