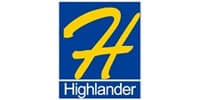 HLD-VDR 600 / SVDR600 are Highlander's best and most stable voyage data recorder to date. It is the fruition of nearly two decades of endeavor in the challenging field of maritime black boxes and embodies the wealth of experience gained from VDRs fitted in thousands of seagoing vessels around the World.
HLD-VDR 600 / SVDR600 fully meets the requirements of IMO A.861(20), MSC.333(90), MSC.163(78), IEC 61996-1 Ed.2, IEC91996-2 and IEC 60945 and carries MED, CCS and other certifications.
HI-CLOUD VESSEL REMOTE INFORMATION SERVICE SYSTEM: The new "Hi-Cloud" remote connection facility is the way to harness the HLD-VDR 600 / SVDR600's full potential. Comprehensive ship's data is easily and economically made available to shore side users for optimization of fleet management with existing IT infrastructure with both fixed and mobile devices. "Hi-Cloud" is also a handy tool for servicing bridge electronic equipment, providing accurate information about the functionality of all of many sensors and devices that are recorded by the VDR.
PRODUCT FEATURES
STABLE AND RELIABLE: The operating system is embedded, software applications are tried and true, bug-free.
EASY TO INSTALL: Distributed architecture provides for convenience in situating the single elements close to recorded sensors and devices.
SMALL AND COMPACT: easily fits into even the most cramped wheelhouse environs.
FLEXIBLE: Independent image, serial data, non-standard data acquisition modules, flexible configuration depend on demand, flexibly according to demand, that can reduce the cost effectively
ADAPTABLE: Can be configured with several data acquisition modules with a number of accessible signals to meet the recording demands of various ships
STATE-OF-THE-ART: support video image (four video sources) via Ethernet for Radar, ECDIS and others.
SECURE: The data stored in the HLD-VDR 600 is tamper-proof. It is not possible to alter or delete it.
POWERFUL: Via "Hi-Cloud" connectivity, VDR data is accessed remotely on common fixed and mobile devices in order to achieve smart fleet management and check-up and troubleshooting of shipboard systems. Data is compress-packaged for low-cost transmission over satellite networks.