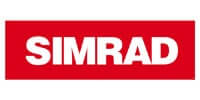 New unique technology Gyrocompasses GC80 eliminates the need for annual service. The all new GC80 and GC85 are fully IMO approved for standard and High Speed Craft (GC85) and can be configured in a dual gyrocompass system. The highest possible accuracy and stability is provided by the new technology, fully sealed sensitive element.
System flexibility
The most flexible Gyrocompass on the market, for installation, configuration and cost. A wide range of control units provide complete flexibility of system configuration for new installation and easy retrofit into existing repeater systems. The standard range of interfaces can easily be expanded to provide signals for all vessel  applications. The distribution of power and heading signals from the control units enables practical installation and easy retrofit.
Remote Control
Remote control panel for flush mounting away from the Control unit, i.e. in the dash board. All control panels are fully dimmable, showing data from main and backup gyrocompasses.
Choose the right repeater
A full range of analog and digital repeaters are available for all vessel applications. Analog, digital and bearing repeaters can be used with all Simrad gyrocompasses. All repeaters are water resistant for external use.
Total redundant heading reference system
Using the New Simrad 80 series it is possible to configure a fully redundant system. Complete backup of heading information to autopilots, radar etc. from a second heading source. No interruption to operation.
Unique sensitive elements
Unique new technology sensitive elements requires no annual servicing
No oil change and quick installation!
Sealed sensitive element
Very low RPM reduces wear, increasing lifetime
High follow-up rate
Swappable sensitive elements for on-board service
Full 2 year warranty