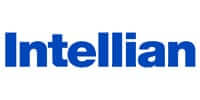 The most technologically advanced, dependable, and easy to use marine satellite TV systems
The complete range of Intellian marine satellite TV systems enables uninterrupted HD or SD TV viewing onboard. These dependable products have been developed for vessel owners who go to sea in all conditions, or for those who like to drop anchor in a quiet cove somewhere.
Intellian manufactures antennas with fewer moving parts, making the products smaller, quieter, and easier to install and operate.
When you want to turn on the TV, turn to Intellian!