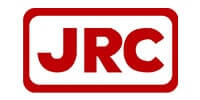 The JMA-3300 series is JRC's newest radar, featuring a 10.4-inch ultra bright LCD, and incorporates the latest digital signal processing for excellent target identification and detection in a compact design.
System-on-Chip
JRC engineers custom designed the System- on-Chip (SoC) inside the new JMA-3300 series to be an extremely powerful tool.
With such a small chip, weighing less than a sugar cube, performance remains at our high standards. At the same time, the SoC technology makes the compact radar very power efficient.
AIS & MARPA+™
The new radar has the ability to display 50 AIS symbols, and 10 MARPA ™ tracking targets as standard. The high quality of the display provides outstanding target definition and discrimination.
The (second generation) MARPA ™ continues JRC's successful MARPA ™ technology first found in the previous JMA-2300 radar series. Our engineers continued developing and improving the technology, until now, with MARPA ™, manual or automatic target tracking is even more reliable.
DirecTrak™
The new radar has an easy vessel searching function based on AIS, called DirecTrak™. This function shows the nearest 50 vessels received by the AIS. If you select a vessel on the list, then range and bearing is displayed of the selected vessel.