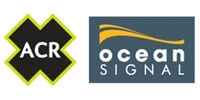 The Ocean Signal SafeSea S100 is an X-band radar transponder which complies with IMO SOLAS regulations.
Superb battery operating life, even at low temperatures
Provides 12 hours operating use even after 96 hours in standby
User replaceable battery
Battery is non-hazardous for shipping purposes
Compact size – ideal for packing within a life raft canister
Supplied with telescopic pole and easy to release mounting bracket
Intuitive operating controls – identical to operation of the SafeSea EPIRB – reducing stress in times of emergency
The SafeSea S100 SART assists in rescue and recovery providing an enhanced target in response to radars operating in the vicinity. When switched on the S100 remains in standby mode until automatically activated by a ship's X-band radar. It then transmits a series of pulses which are displayed on the radar as a line of dots proving range and bearing to the emergency.